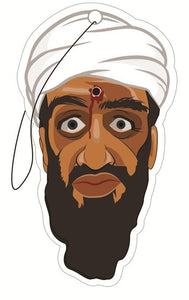 DEAD OSAMA BIN LADEN "BULLET IN THE HEAD" AIR FRESHENER
Regular price $7.95 $5.95 Sale
Smell your freedom with these AWESOME Dead Osama Bin Laden "Bullet Hole In The Head" air fresheners! There really is no explanation needed as to why these are bad ass, but just in-case....because Fuck Al-Qaeda.  Why settle for those every day boring standard air fresheners when you can show your support for our Military, the 2A, and USA while hanging these awesome looking air fresheners in your ride? These air fresheners measure 5" tall x 2.25" wide. Hang these in your Auto, office, or even your firearm bag to keep them smelling fresh! 
Top Quality - Custom Air Fresheners! 
Long lasting scent that lasts up to three weeks! 
Specifically made for Automotive use, comes sealed and ready to use! 
Order 5 or more and get FREE SHIPPING IN THE USA!!!