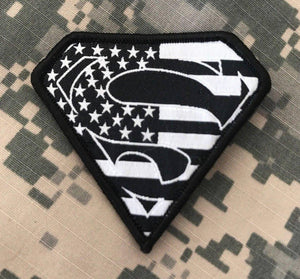 BuckUp Tactical Morale Patch Hook Superman USA Black Patches 2.75"
Regular price $4.95 $3.90 Sale
For More Details On What "Hook" Means For Hook Backing Please Google. We Can Not Use The Word Velcr*. * Star Being an "O". Due to Newer Trademark Infringement rights. But Basically its the Hook Part of the Velcr*, Not the Loop Part. So Yes This Item is Velcr*. 
Product Details: 
- Patches With Hook Backing 
- 2.75" Sized (Length x Height) 
- 2 Year Warranty No Questions Asked 
- 100% Satisfaction Guaranteed "OR YOUR MONEY BACK" 
- Veteran Owned & Operated Business Since 2011 
Discount Info: 
-Buy 1 Get 1 Patch Half OFF (Any Patch Of Equal Or less Value) Must Request For Discount If not Automatically Submitted 
Shipping Details: 
- All Items Ship Within 48 Hours From Hubert NC 
- Shipped VIA USPS, Tracking Included If you choose First Class Mail. 
- All Items Ship Via .69 Cent Postage (Delivery is 5-6 Business Days) 
  ****Unless Other Upgraded Shipping Option is chosen @ Checkout!